---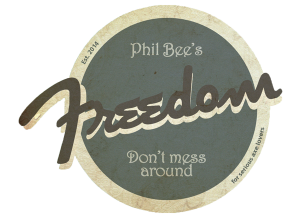 zaterdag  1  december  •  22:30 – 23:30
---
"What could ever sound better than one great guitar player? Two !"
Winners of the Dutch Blues Challenge 2015. The jury was unanimous. Outstanding skills, repertoire and stage presence.

This sensational Dutch/Belgian band, excites the crowds with original blues tunes, mixing jazz and soul grooves, played by the finest musicians around.
Imagine 60-70's Hammond and Rhodes, tight groovy rhythm section, 2 outstanding lead guitarists, creamy background singers, topped by Phil Bee's white soul voice. Outstanding quality that will hit you like a freight train.
Line up:
Vocals:

Phil Bee

Winner Dutch Blues Award best vocalist 2015. Continental Records recording artist, former singer of multi award winning band King MO. Toured with the likes of Jan Akkerman, Steve Lukather, Noel Redding, Ana Popovic. Played i.e. at the North Sea Jazz Festival, Moulin Blues, BB King's Blues Club (Memphis).
Guitar:

John F. Klaver

Winner Dutch Blues Award best guitarist 2015. Conservatory of Amsterdam graduate. The only Dutch guitarist to be part of the international team of worldleading guitarwebsite Jamtrackcentral. Winner of the Dutch Blues Challenge 2011 and 2013. 'One of the most interesting guitarist out of Holland' says none less than Matt Schofield.
Guitar:

Berland Rours

After his conservatory studies in Amsterdam, 41 year old guitarist Berland toured internationally with the likes of Eef Albers, Benjamin Herman. His jazz and soul roots are clearly noticeable and he mingles those with his blues feel.
Keys:

Pascal Lanslots

Winner Dutch Blues Award best keyboard player 2016. After graduating with honors at the conservatory, Hammond, piano and vintage keys player Pascal shared the stages all over the world with the likes of BB King, Tino Gonzalez and Chick Rodgers, at festivals like North Sea Jazz. Hammond endorsee.
Drums:

Arie Verhaar

Started drumming after his high school, but made up by graduating from the Rotterdam Conservatory a few years later. Then toured worldwide with Kooymans/Carillo, Stefan Schill, Saskia Laroo, King MO to name a few.
Bass:

Carlo van Belleghem

Well known freelancer in Belgium who has played many styles of music. But his passion is and stays in the blues. Bands he played with: Boogie Boy, Roland, Shirley Johnson, Marino Noppe, Last Call, Gerry Joe Weise, Phil Wiggins, George Kirby Jr. and that's only in blues department …