Jo Harman is an original British singer-songwriter and band leader whose work is broadly influenced by blues, gospel, soul, country, rock and other 'roots' sensibilities. In March 2014 the Daily Mirror, as part of a half page interview, described her as 'the finest female soul blues singer in the UK'. Emerging initially as a 'word of mouth' independent, Jo remarkably secured over 50 UK and European festival gigs over in 2013, including prestigious slots at the likes of Cheltenham and Edinburgh Jazz Festivals. Last summer Jo was one of only 12 (otherwise household name) artists appearing at Parkpop in the Hague, performing to over 300,000 people. Moreover, late last year she performed alongside names like Robert Plant and Van Morrison at BluesFest at The Royal Albert Hall in London for Live Nation (Jo's performance being broadcast by Radio 2 and Radio 6 Music) and she has been asked to re-appear in 2014. Jo also appeared on prime time European TV and mainstream radio, as well as making three appearances within 6 months at the world famous Paradiso, Amsterdam.
Jo's 2013 debut album 'Dirt On My Tongue' received remarkable critical acclaim making vaious of 'best of' lists and awards, internationally. She subsequently signed to V2 (stable mates include Adele, Mumford and Sons, Queens of the Stone Age etc) in Europe and the album entered the Netherlands album charts. Recently, Huey Morgan (Fun Lovin' Criminals) said on his BBC Radio 2 show 'Sometimes you hear a singer who leaves you speechless – I am'.
In Summer 2014, Jo releases a new album,'Jo Harman and Company – Live At The Royal Albert Hall', recorded by the BBC. This year, her international touring schedule extends to Festivals in France, Germany, Spain and the Caribbean, as well as continuing many significant festival (Isle of Wight included), theatre and major club shows in UK. She and her band have just received no less than 4 nominations for this years British Blues Awards, including best singer, as well as best songwriter, in 2014 alone.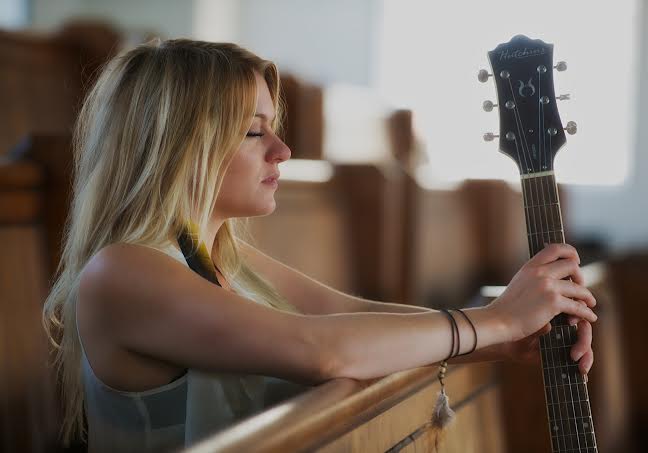 Spotted singing at an open mic by BiGiAM management, who took her on very much as an 'artist in development', Jo's compelling live shows quickly attracted the attention of influential European agency Bepop. Thanks to Live Nation sharing Bepop's belief in Jo's talent and potential, Jo's first ever European performances were much sought after support slots for the likes of Cranberries, Don McLean, Mick Hucknall, Johnny Winter and more, as well as performing her own shows at prestigious festivals shows in Holland, France and beyond. Back in the UK, despite no released product, promotional spend or even having any kind of official agent, Jo found herself in increasing demand as a live act. With 40 odd festivals in the book for 2013 alone, many as headliners, her calendar included prestigious slots at the likes of Cheltenham Jazz Festival, Edinburgh Jazz Festival and Blues Fest at the Royal Albert Hall. Back in Holland, Jo was very recently invited to appear, alongside the likes of Bob Geldoff, Sinead O'Connor and other household names, as one of only 12 artists appearing at Parkpop, Europe's biggest free festival, in front of around 300,000 people (and a much bigger TV audience besides). Jo's debut album 'Dirt On My Tongue' was released as a low key, no PR budget, independent release in March 2013. It attracted universal praise and some incredible, and unlikely, reviews, including the high street nationals Mail On Sunday, Blues and Soul, The Blues Magazine, Classic Rock – all apparently by word of mouth – as well as the more specialist and underground press. "Album of the Year" was not an isolated remark and, somewhat bucking the industry trends, physical copies album began to sell organically in it's thousands direct from Jo's website. This resulted in noted V2 label (home of Adele, Mumford and Sons and many other superstar acts) releasing the album in Benelux on September 2013, where the album made the national chats proper, in Netherlands. European TV and mainstream radio soon followed. 'Dirt on My Tongue' was subsequently (re) released in UK by The Big Chill Label, being available in HMV and other major retailers via Proper Music (Music Weeks retailers of the year, 4 years running) who named Jo's record 'International Blues Album Of The Year'. With mainstream press and radio now further picking up on Jo's career, her remarkable story continues…
"Stunning…our tip for 2013. Harman's music mainlines the human soul" Classic Rock Blues
"On course to become the finest female blues soul singer in the UK" Daily Mirror
"Album of the year" Gary Grainger, UK Blues Presenter of the Year
"Album of 2013, if not the decade" Blues Doodles
"A veritable superstar on the British blues and roots scene, she really is that good….the voice is a glorious instrument, immensely expressive and with a tone that can send shivers down the spine…this is an astounding record, timeless, rich and powerful …it's this disc that truly says that she is a star of our time." Tone Monkey
"What a voice!" Classic Rock
"Cracking..get it!" Mail On Sunday